---
Much More than a Ride to the Hospital
While our primary mission is to provide life-saving pre-hospital care in emergencies, our organization serves the region in numerous ways.
Some of our services include:
Paratransit services for those in wheelchairs or with mobility issues which need transportation to and from medical appointments
Interfacility transports for the most critically ill and injured who cannot be moved from one medical facility to another without stretchers, medications, and medical personnel
Educational offerings for volunteer firefighters, medical office personnel, daycare providers, those interested in EMS careers, and the general public
Ambulance standby services on-site for community festivals, sporting events, and fairs
Advocacy and programs to positively affect the health, well-being, and safety of the residents of our service area
Important Telephone Numbers
Non-Emergent Transportation Scheduling: 814- 870-1020
For Ambulance or Paratransit Billing Questions or issues: 814-870-1030
Membership Billing Issues or Questions: 814-870-9999
Education Programming Issues or Questions: 814-870-1940
EmergyCare Recognized Staff During National EMS Week 
In 1974,  President Gerald Ford authorized EMS Week to celebrate the important work of Emergency Medical Services practitioners. To celebrate this year's theme, "This is EMS: Caring for Our Communities," EmergyCare recognized employees who contributed to Cardiac Arrest Survival Registry to Enhance Survival, Non-Traumatic Sudden Cardiac Arrest saves and the EmergyCare "Spirit of EmergyCare" award recipient.
Sudden Cardiac Arrest (SCA) is a life-threatening emergency that occurs when the heart unexpectedly stops beating. These can occur in people of all ages, including children and teens.    According to Cardiac Arrest Registry to Enhance Survival (CARES), 356,000 people in the United States experience an out-of-hospital SCA each year. Sudden Cardiac Arrest leads to death within minutes if the person does not receive immediate help.  
EmergyCare recognized 25 staff with the Lifesaver Award. These staff contributed to saving a life from a non-traumatic Sudden Cardiac Arrest (SCA). Nineteen staff participated in one SCA save; four staff participated in two SCA saves; Jeremy Thompson, EMT-P, had three SCA saves while Donald Erbin, EMT-P, had four SCA saves. 
Life Saver Award Recipients
Alex Martin, EMT, Bim Orrenmaa, EMT-P, Charles Unger, EMT-P, Cody Meehl, EMT-P, Dave Crosby, EMT-P, Ellen Jaskiewicz, EMT, Emily White, EMT-P, Harry Latta, EMT-P, Jeff Peyton, EMT, Jessica Pierce, AEMT, Jim Zavinski, EMT, Jodi Greer, EMT, Joe DeVita, EMT, Martin Carney, EMT-P, Matthew Harper, EMT-P, Meghan Marquis, EMT-P, Phillip Latimer, EMT-P, Phillip Wilson, EMT-P, Rich Notarianni, EMT-P, Donald Erbin, EMT-P, Jeremy Thompson, EMT-P,  David Russell, EMT-P, Gerald Sorci, EMT P, Krystin Harris, EMT, and Tyler Andrzejczak, EMT,  Jeremy Thompson, EMT-P,  Donald Erbin, EMT-P. 
Spirit of EmergyCare
Also recognized was the EmergyCare's Spirit of EmergyCare recipient. The Spirit of EmergyCare award was established in 2017 and is presented annually during EMS Week. The award recognizes an employee whose attitude, work, and achievements have a positive effect on others and who has made significant contributions in mentoring, empowering, coaching, and supporting EmergyCare employees to achieve results, contributes to building or maintaining a positive atmosphere of trust and respect, with patients/clients/vendors/donors and the community at large, and who reflects the spirit of EmergyCare's mission is to save lives and positively impact the health, well-being, and safety of the communities we serve.  This year, EmergyCare recognized David E. Leicht, EMT-P.  Dave is a 38-year employee of EmergyCare who has held Operations Supervisor, Flight Paramedic, and Fleet Manager positions.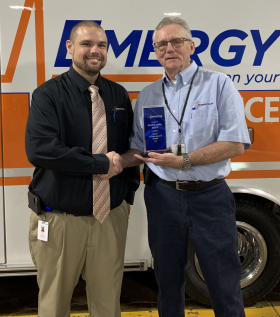 DAF Direct
What is a donor advised fund? A donor advised fund is a type of giving program that allows you to combine the most favorable tax benefits with the flexibility to easily support EmergyCare. An increasingly popular charitable vehicle, donor advised funds are an excellent way to both simplify your charitable giving and facilitate your strategic philanthropic goals.
Testimonials
"What an experience my daughter Madison had riding along with your crews recently! She attended Camp EMS in June and then followed up with a ride along in August. The two employees she rode with were excellent role models and has made her interest in becoming an EMT and a Parameic skyrocket! Thanks for developing Camp EMS and the ride along program. ~Regina R."
"Thank you to all the EmergyCare personnel who transported my husband to the Regional Cancer Center for his radiation treatments. Everyone was so kind and patient and it was helpful for familiar faces to take him each time which kept him from getting further aggravated due to his dementia. Your caring was truly appreciated. ~ Loretta N."
"Thank you to the crews who were dispatched to assist my dad in respiratory distress. They worked so hard to help him and my family is very appreciative. ~Chrissy D."