Education & Outreach
EmergyCare Training Institute
The EmergyCare Training Institute offers a wide variety of programs open to the public.  Courses that are scheduled periodically may be canceled due to a lack of enrollment. If a course is canceled the student will be contacted. All persons are required to complete the skills associated with each course to pass.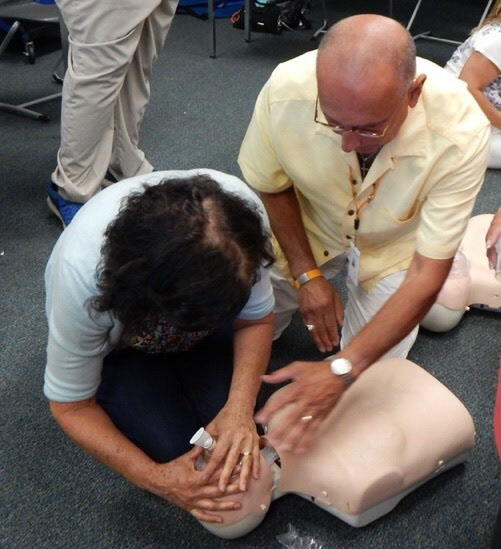 CPR Classes
American Heart Association Basic Life Support (BLS)
This course is designed for healthcare professionals and other personnel who need to know how to perform CPR and other basic cardiovascular life support skills in a wide variety of in-facility and prehospital settings.
Monthly BLS CPR classes are available. 
Heartsaver CPR with AED (Adult, Child, and Infant) 
Heartsaver CPR AED is geared for anyone with limited or no medical training who needs a course completion card in CPR and AED use to meet job, regulatory, or other requirements.  This course teaches CPR, AED use, relief of choking in adults and children, infant CPR and relief of choking, and the use of barrier devices for all ages. Upon successful completion of the course, students receive a course completion card, valid for two years. 
Heartsaver First Aid
The Heartsaver First Aid course trains participants first aid basics for the most common first aid emergencies, including how to recognize them, how to call for help, and how to perform lifesaving skills. The American Heart Association Heartsaver First Aid Course is designed for anyone with limited or no medical training.
Child and Babysitting Safety Course
The American Safety and Health Institute Child and Babysitting Safety training program is designed for youth ages 11 and up who are interested in providing babysitting services.  The program focuses on supervising, caring for, and keeping children and infants safe in babysitting settings. The program provides fundamental information in the business of babysitting, proper supervision, basic caregiving skills, and responding properly to ill or injured children or infants.
Course Highlights
Babysitting as a business
Safety and injury prevention
Leadership
Play time
Basic caregiving skills
CPR and first aid techniques
Best practices for safe and successful babysitting